Australia sends planes to spot suspected flight MH370 wreckage
Evaluating the cost of a DDoS attack
PIC Australia has sent planes to the Southern Ocean, some 2,500km south-west of Perth, after analysis of what's been described as "commercial satellite imagery" revealed large objects suspected to be debris from missing Malaysian Airlines flight MH370.
The search area, depicted below in a map released by the Australian Maritime Safety Authority (ASMA), is at the extreme end of the missing plane's range and is also conceivably on the craft's route, as determined by projections of its course based on its last transmissions to satellites.
Australian Prime Minister Tony Abbott told Parliament that an Orion P3 aircraft equipped for marine rescue and observation had been despatched to visit the site where the debris was spotted. The Orion will be followed by other craft with similar capabilities. Mr Abbott said he had informed his Malaysian counterpart, Prime Minister Najib Razak, of the find and the reconnaissance mission.
In a press conference this afternoon, ASMA officials said they are advised by experts that the objects noticed by satellites were worth visiting in the context of the search for MH370, but that the satellite images that sparked the decision did not offer sufficient detail to make a positive identification of the items in the water. Nor do the images depict an oil slick.
Aviation commentators have since said that at a reported 24m in length, the objects are consistent with the size of a 777's wing or tailplane. That's of interest because one of the major pieces of floating debris recovered after Air France Flight 447's crash over the Atlantic Ocean was the tailplane.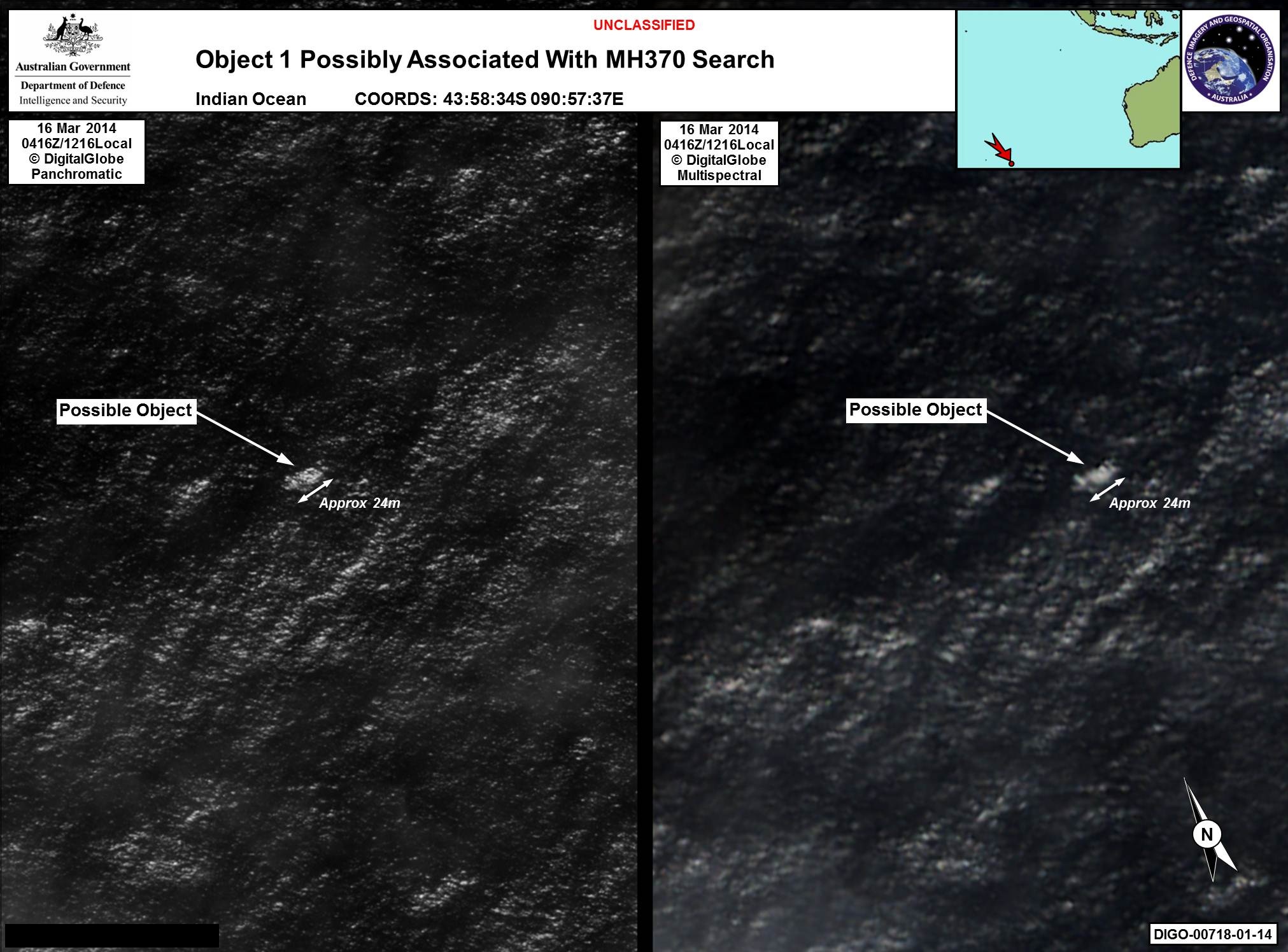 The satellite image analysts believe may be MH370 debris. Click here to see at a larger size.
Since the press conference, reports have emerged that media travelling on US search planes report several credible radar images have been detected in the search zone.
The first aircraft sent to the search zone has sufficient fuel to spend two hours looking for the objects and will be able to do so during daylight hours as Perth, the port from which it departed, is at GMT +8. The search zone is probably GMT +7. Even though it is light, it will be hard to conduct extensive searches as the area under inspection is three hours' flight from Perth. Spotter planes will need to ensure they have enough fuel to make it home safely. To make matters worse, another aircraft that visited the same region earlier today reported that visibility is poor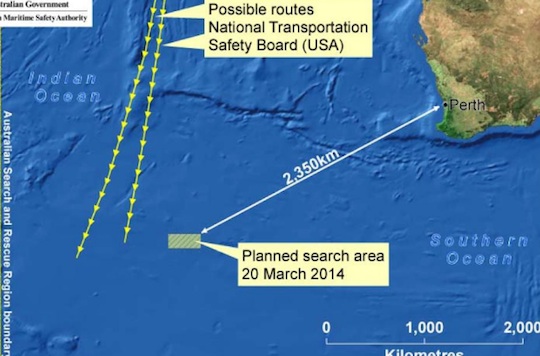 The Reg will update this story as more information comes to hand.
If the search area is indeed MH370's resting place, it appears the plane turned south. Just how or why it did so remains open to speculation. The site is, at least, consistent with theories that the plane flew until it ran out of fuel.
The region of the Southern Ocean under consideration is very remote: there are very few islands and none boast airstrips capable of handling a 777. The location therefore supports theories that the plane was not under human control for many hours, unless someone in control had a reason to ditch in a remote ocean. The location does offer an explanation for why the plane was able to fly unobserved for many hours, because once the projected flightpath took it south of Indonesia there is almost no land, inhabited or otherwise, from which it could have been observed. ®
Evaluating the cost of a DDoS attack
Article source: http://go.theregister.com/feed/www.theregister.co.uk/2014/03/20/australian_sends_planes_to_spot_suspected_mh370_wreckage/