Microsoft Delays Enterprise Windows 8.1 Support Doomsday
Responding to criticism, Microsoft gives businesses until August to adopt Windows 8.1 Update and continue receiving security updates. Consumers still face May 13 deadline.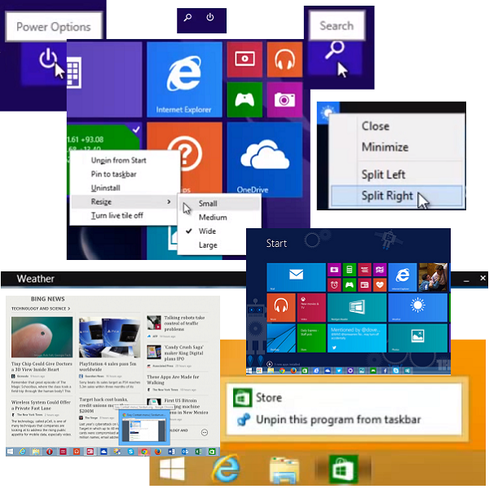 (Click image for larger view and slideshow.)

Microsoft announced Wednesday that it is extending enterprise support for Windows 8.1 until August.
That delays the deadline the company set out in a surprise announcement, made last week, that users would have just 30 days to install Windows 8.1 Update if they wanted to receive future security updates. Windows 8.1 Update was released April 8. "All future security and non-security updates for Windows RT 8.1, Windows 8.1, and Windows Server 2012 R2 require this update to be installed," Microsoft said.
In other words, consumers and businesses that wanted to continue running a patched version of Windows 8.1 had less than one month to install the 707-MB update. Otherwise, they would be running an outdated — and thus more vulnerable — version of Windows.
[How does Cortana stack up to Siri? Read Microsoft Cortana: My First Week.]
The short timeline provoked an outcry from businesses, and that didn't go unnoticed. "As we've been monitoring the release, we've been actively discussing this new approach to servicing with enterprise customers and listening to their feedback regarding managing the deployment timeline," Microsoft said Wednesday in an emailed statement. "As a result, we've decided to extend the timeframe for enterprise customers to deploy these new product updates from 30 to 120 days," meaning businesses now will have until Aug. 12 to install the update.
Along the way, Microsoft will release point security patches for all businesses that use Windows Server Update Services (WSUS), Windows Intune, or System Center Configuration Manager to manage updates. "For those that decide to defer installation, separate security updates will be published during the 120-day window," Microsoft senior marketing communications manager Brandon LeBlanc said Wednesday in a blog post.
LeBlanc said Microsoft's push for Windows 8.1 users to adopt Windows 8.1 Update — a.k.a. KB2919355 — as quickly as possible reflects the operating system including "a new approach to servicing… to help ensure our customers' privacy and security are protected, while providing the most optimal performance through the most up-to-date software."
In the bigger picture, Microsoft is also hoping that the revamped version of its touch-screen operating system, which has faced significant adoption challenges, will be more palatable to the mouse-and-keyboard set, in part by including power and search buttons on the Start screen, as well as reverting to an easily accessible taskbar.
Still, the company's strong-arm updating tactics caught many by surprise. Businesses' worries were further compounded by a bug involving Windows 8.1 Update and WSUS, which resulted in some updated PCs being unable to receive further security updates. Microsoft confirmed related problems April 8 and immediately stopped distributing Windows 8.1 Update to WSUS servers.
By Tuesday, Microsoft said it had resolved the WSUS problem and again released Windows 8.1 Update — as well as the Server 2012 R2 Update and Windows Embedded 8.1 Industry Update — to WSUS.
But that left businesses with less than a month to update all of their Windows 8.1 PCs. Even with the fixes, furthermore, not all has gone smoothly. "KB2919355 also broke Checkpoint SSL VPN SNX [extender]," one user commented Wednesday on a Microsoft TechNet page. "After installing the update, we now get a page cannot be displayed message when visiting the SSL VPN portal site. Uninstalling the update resolves the problem."
Of course, hiccups related to installing major operating system updates aren't unusual. But not every business, which must prioritize which patches it installs first, and rigorously test those updates, can safely distribute a new client build in less than a month. With the temporary Windows 8.1 support reprieve, businesses now have until mid-August — instead of early May — to upgrade to Windows 8.1 Update.
The timeline, however, hasn't changed for consumers. "For our consumer customers, Windows 8.1 Update is a required update and needs to be installed to receive new updates from Windows Update starting on May 13th," said Microsoft. "The vast majority of these customers already have Automatic Update turned on, so they don't need to be concerned since the update will simply install in the background prior to May 13th."
Join Enterprise Connect for an intensive day-long series of sessions in a free four-city roadshow focused on helping you design strategies for successful adoption and implementation of Microsoft's Lync. During this free program, we will help you evaluate Lync as a voice solution, address the challenges of integrating Lync into your existing UC architecture, and analyze total cost of ownership. Join your peers and leading vendor companies making Lync adoption possible in San Francisco, Chicago, Boston, and New York. Register for the Enterprise Connect Lync Tour today.
Mathew Schwartz is a freelance writer, editor, and photographer, as well the InformationWeek information security reporter.
View Full Bio
Article source: http://www.darkreading.com/microsoft-delays-enterprise-windows-81-support-doomsday/d/d-id/1204522?_mc=RSS_DR_EDT