Popular platforms, such as Facebook and Instagram, aiding illegal gun sales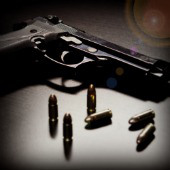 An increasing number of people are buying guns online, facilitated on platforms such as Facebook or Instagram, with no age or background checks required in the transactions.
That's how a 15-year-old in the state of Kentucky did it.
In October, the boy was arrested on the Greenup County High School campus for carrying an unlicensed and loaded 9mm handgun to school.
When police asked the high schooler where he got the gun, his answer was Facebook.
Most of us – at least, those of us who aren't familiar with the world of firearms – don't typically associate venues such as Facebook or Instagram with unlicensed gun sales.
But the mayors of many US cities sure aren't shocked.
In fact, the bipartisan group Mayors Against Illegal Guns in September 2013 put out a report examining online gun listings posted between February and May 2013 on just one popular website, Armslist.com.
The study found that more than 25,000 guns were transferred to individuals with criminal records, on just that one site, in just that one year.
It takes about 15 minutes to set up such a transaction on Facebook.
At any rate, that's how long it took two Venture Beat reporters, who last week set up the purchase of a semiautomatic 7mm rifle and 90 rounds of ammunition from a guy named "Dave", a member of the Firearms Only Alamogordo fan page on Facebook.
Note that neither Facebook nor its Instagram photo- and video-sharing sites are e-commerce sites, mind you.
Rather, arms suppliers use the sites to advertise their goods and to set up chats with prospective buyers.
Black markets such as Silk Road – alternative places to illegally buy firearms – operate in the dark web, typically tucked away beneath vetting processes and accessed through the anonymising service Tor.
But the places where you can get guns fast, easily and without age or background checks are here in the bright, open light of the web.
On Facebook, for example, as Venture Beat reports, a quick search will send you to fan pages that don't mince words: they include Firearms Only Alamogordo, Guns for Sale, I Love Guns, and Guns, Ammo Blades.
Ebay doesn't get away with this, because it's a site that specifically conducts transactions.
But sites that aren't doing that part of the deal – the ones that merely facilitate gun ads and the conversations between buyers and sellers – are not beholden to federal gun law.
At any rate, a loophole in federal law concerning US gun sales allows so-called "private sellers" to sell firearms quickly, anonymously, without background checks, to anybody of any age.
Really, all you need is a phone number and an email address, Mayors Against Illegal Guns has found.
Multiple petitions have been started to change site rules on gun sales.
One, a petition on Change.org, calls for Facebook and Instagram to prohibit gun sales. It had garnered 93,365 signatures as of Monday morning.
From the petition:
We need to tell Facebook loud and clear that allowing gun sales and trades — which could easily put firearms in the hands of criminals and dangerous people — is a threat to public safety and the security of our families. Other online platforms including Craigslist, eBay, and Google+ have already prohibited these sales and it's time for Facebook and Instagram to join them.
Facebook, for one, might not be an e-commerce platform, but it's far from powerless when it comes to flagging illegal activities.
Case in point: look at how it catches would-be child molesters by analysing relationships and chat content.
It seems like a no-brainer that Facebook, or any site that's facilitating illegal gun sales, should be able to turn the dials on that or similar technology until they're also picking up on illegal gun sales.
Much to its credit, Facebook is, in fact, trying to figure this out.
As All Facebook reported last week, Facebook is now in talks with Mayors Against Illegal Guns and another advocacy group, Moms Demand Action for Gun Sense in America, about the problem of enabling gun sales on its main platform and on Instagram.
Good.
Craigslist et al. aren't hiding behind the "we don't do e-com!" shield when it comes to gun sales.
I can't see any reason why other sites should keep tucking these dark-web activities beneath that limp excuse.
Please, let's hear your thoughts on this in the comments section below.
Image of gun courtesy of Shutterstock.
Article source: http://feedproxy.google.com/~r/nakedsecurity/~3/tCFbJdrlP4k/