SSCC 117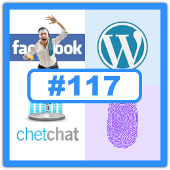 News, opinion, advice and research: here's our latest two-weekly quarter-hour security podcast, featuring Chet and Duck (Chester Wisniewski and Paul Ducklin) with their informative and entertaining take on the latest security news.
By the way, you can keep up with all our podcasts via RSS or iTunes, and catch up on previous Chet Chats by browsing our podcast archive.
Listen to this episode
Play now:
(24 September 2013, duration 14'57", size 9.0MB)
Download for later:
Sophos Security Chet Chat #117 (MP3)
Stories covered in Chet Chat #117
Previous episodes
Don't forget: for a regular Chet Chat fix, follow us via RSS or on iTunes.
Article source: http://feedproxy.google.com/~r/nakedsecurity/~3/XtCNh02d0xc/